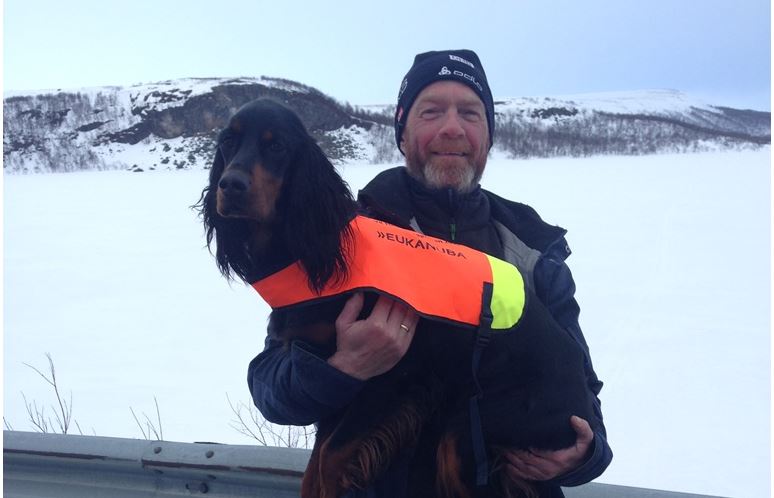 Vi har oppsumert resultatene til klubbens hunder i vinter, og i år som i fjor markerer Tromsø Fuglehundklubbs hunder seg både lokalt og nasjonalt.
I TFK Cup AK/VK leder GS Jimbalayas Kenya e/f Roger Tømmerholen suverent med 970p etter en strålende vinter. Nr 2 er P Pointnics Point e/f Ole Ingebrigtsen med 550p tett fulgt av Nr 3 IS G-Tjikkom Av Miessevarri e/f Ronny Jørgensen med 520p. Alle disse tre hundene hevder seg også meget godt i sine egne raseklubbers kåringer hvor GS Jimbalayas Kenya leder både AK og VK Cupen i Gordonsetter klubben, P Pointnics Point leder PointerCupen Høyfjell i Pointer klubben, mens IS G-Tjikkom Av Miessevarri leder Norges Cup'en for Irsksetter klubben!
I TFK Cup UK leder B Kvikksteps Mira e/f Eivind Winther klart med 690p. Nr 2 er IS Tårnheias Aria e/f Kristian Prytz med 490p, og Nr 3 er KV Sognexpressen Kzb Giro e/f Jan Tore Johansen med 330p. To av disse tre UK hundene er så vidt vi kan se helt i toppen av sine kåringer i sine respektive raseklubber. Litt uklar Cup i Breton klubben men det kan se ut som om Kvikksteps Mira leder der, mens Sognexpressen Kzb Giro er nr 2 i NVC Vorstehr klubbens kåring. Tårnheias Aria når ikke helt opp i vinter cup'en til Irsk setter klubben hvor blant annet to unghunder fra Midt Troms herjer listene!
Resultatene så langt i år ser da ut som følger:
TFK Cup AK/VK 2015
NR 1 GS Jimbalayas Kenya e/f Roger Tømmerholen 970p
1.pr VK m/CACIT finale Alta 19.04.15 (170p)
5.pr VK semi Alta 18.04.15 (70p)
4.pr VK finale Altevann 12.04.15 (70p)
3.pr VK kval Altevann 11.04.15 (80p)
2.pr VK kval NM Vinter Andøya 27.03.15 (80p)
2.pr VK kval Arnøya 07.03.15 (80p)
1.pr AK Tromsø I 01.03.15 (100p)
2.pr AK Tromsø I 28.02.15 (80p)
2.pr AK Senja 22.02.15 (80p)
2.pr AK Senja 21.02.15 (80p)
2.pr AK Ringvassøy 15.02.15 (80p)
NR 2 P Pointnics Point e/f Ole Ingebrigtsen 550p
3.pr VK kval Alta 17.04.15 (80p)
2.pr VK m/CK semi NM Vinter Andøya 28.03.15 (120p)
1.pr VK m/CK kval NM Vinter Andøya 27.03.15 (120p)
1.pr VK NM Lag (individuelt(delt)) Andøya 26.03.15 (0p)
2.pr VK finale Tromsø II 21.03.15 (100p)
2.pr VK kval Tromsø II 20.03.15 (80p)
5.pr VK kval Tromsø I 28.02.15 (50p)
NR 3 IS G-Tjikkom Av Miessevarri e/f Ronny Jørgensen 520p
4.pr VK kval NM Vinter Andøya 27.03.15 (50p)
3.plass NM Lag (IS laget) Andøya 26.03.15 (80p)
1.pr VK m/CK kval Tromsø II 20.03.15 (120p)
5.pr VK kval Arnøya 07.03.15 (50p)
2.pr VK finale Tromsø I 01.03.15 (100p)
1.pr VK m/CK kval Tromsø I 28.02.15 (120p)
NR 4 P Tinka Av Vor-Point e/f Jim Møllnes 470p
3.pr AK Alta 19.04.15 (50p)
2.pr AK Altevann 12.04.15 (80p)
3.pr AK Altevann 11.04.15 (50p)
2.pr AK Tromsø I 28.02.15 (80p)
3.pr AK Senja 21.02.15 (50p)
2.pr AK Ringvassøya 15.02.15 (80p)
2.pr AK Ringvassøya 14.02.15 (80p)
NR 5 P Jimrypas Kitty e/f JimTeodorsen 300p
3.pr VK finale Alta 19.04.15 (130p)
1.pr VK m/CK kval Alta 17.04.15 (120p)
4.pr VK kval Tromsø II 20.03.15 (50p)
Nr 5 B Reisavannets Ja-Kaos e/f Jan-Erik Jensen 300p
2.pr VK finale Alta 19.04.15 (130p)
4.pr VK semi Alta 18.04.15 (70p)
1.pr VK kval Arnøya 07.03.15 (100p)
Nr 7 ES Ringvassøyas Samira e/f Stein Martinsen 280p
1.pr VK m/CK kval Exit Cup Andøya 28.03.15 (120p)
2.pr VK kval Tromsø II 20.03.15 (80p)
3.pr VK kval Arnøya 07.03.15 (80p)
Nr 7 P Skipsfjordhønas C Bolt e/f Wiggo Ditlefsen 280p
2.pr VK kval Saltfjellet 24.04.15 (80p)
1.pr VK finale Arnøya 08.03.15 (120p)
2.pr VK kval Arnøya 08.03.15 (80p)
Nr 9 GS Klettkovens Shira e/f Jim Pedersen 230p
4.pr VK kval Altevann 11.04.15 (50p)
1.plass NM Lag (GS laget) Andøya 26.03.15 (100p)
5.pr VK NM Lag individuelt Andøya 26.03.15 (0p)
3.pr VK kval Vesterålen 14.02.15 (80p)
Nr 10 GS Jimbalayas Zeta e/f Jim Pedersen 180p
1.pr AK 22.03.15 Tromsø II 22.03.15 (100p)
2.pr AK 01.03.15 Tromsø I 01.03.15 (80p)
Nr 11 KV Itzas Heidi e/f Anne Maj Krogh 150p
2.pr VK finale Arnøya 08.03.15 (100p)
4.pr VK kval Arnøya 07.03.15 (50p)
Nr 11 KV Langsundets Amerika e/f Bjørn Morten Baardvik 150p
5.pr VK kval NM Vinter Andøya 27.03.15 (50p)
1.pr AK Tromsø II 22.03.15 (100p)
Nr 13 P Patjanens Villa Antinori e/f Per Anton Berg 100p
2.pr VK m/CK Res.Cacit HP Skåne 12.04.15 (100p)
Nr 13 ES Steinrabbens Nala e/f Stein Martinsen 100p
1.pr VK kval NM Vinter Andøya 27.03.15 (100p)
Nr 13 B Tromsørypas Pa Liz e/f Per Johnny Skjæran 100p
1.pr AK Tromsøprøven II 21.03.15 (100p)
Nr 13 B Tromsørypas PE Hero e/f Per Johnny Skjæran 100p
1.pr VK kval Arnøya 07.03.15 (100p)
Nr 17 P Joker e/f Ronny Hartviksen 80p
2.pr VK kval Tromsø I 28.02.15 (80p)
Nr 18 P Jimsrypas Lio Messi e/f John solstad 50p
5.pr VK kval Tromsø II 20.03.15 (50p)
Nr 18 P Ottorinos Tya e/f Dag Håvard Hanssen 50p
3.pr AK Tromsø I 28.02.15
Nr 18 P Sallirs TJ Cava e/f Gunnstein Bakland 50p
3.pr AK Andøya 27.03.15 (50p)
Nr 18 B Tromsørypas Ad Tim e/f Per Johnny Skjæran 50p
6.pr VK kval Arnøya 07.03.15 50p
TFK Cup UK
Nr 1 B Kvikksteps Mira e/f Eivind Winther 690p
1.pr UK Alta 18.04.15 (100p)
1.pr UK Altevann 12.04.15 (100p)
2.pr UK Altevann 11.04.15 (80p)
3.pr UK Arnøya 07.03.15 (50p)
1.pr UK Tromsøprøven I 01.03.15 (100p)
2.pr UK Senja 22.02.15 (80p)
1.pr UK B Ringvassøy 15.02.15 (100p)
2.pr UK B Ringvassøy 14.02.15 (80p)
Nr 2 IS Tårnheias Aria e/f Kristian Prytz 490p
1.pr UK Altevann 11.04.15 (100p)
2.pr UK Andøya 27.03.15 (80p)
2.pr UK Tromsø II 22.03.15 (80p)
2.pr UK Tromsø II 21.03.15 (80p)
1.pr UK Tromsø I 01.03.15 (100p)
3.pr UK Tromsø I 28.02.15 (50p)
Nr 3 KV Sognexpressen Kzb Giro e/f Jan Tore Johansen 330p
2.pr UK Alta 18.04.15 (80p)
1.pr UK Altevann 11.04.15 (100p)
1.pr UK Tromsø II 21.03.15 (100p)
3.pr UK Tromsø I 01.03.15 (50p)
Nr 4 ES Knutsvollens Micka e/f Torgeir Ingebrigtsen 200p
1.pr UK Alta 18.04.15 (100p)
3.pr UK Tromsø II 22.03.15 (50p)
3.pr UK Tromsø II 21.03.15 (50p)
Nr 5 B Vinterfjellets Bp No Mercy e/f Kurt Landau 130p
3.pr UK Altevann 12.04.15 (50p)
2.pr UK Ringvassøya 14.02.15 (80p)
Nr 6 P Sallirs Td Baltus e/f Dag Håvard Hanssen 100p
1.pr UK Altevann 12.04.15 (100p)
Nr 6 P Sollidalens B Gimla e/f Øystein Pedersen 100p
1.pr UK Tromsø II 21.03.15 (100p)
Nr 8 KV Itza,s Beretta e/f Anne Maj Krogh 80p
2.pr UK Tromsø I 01.03.15 (80p)
Nr 8 P Rokkomborres A Bine e/f Terje Steinsund 80p
2.pr UK Alta 19.04.15